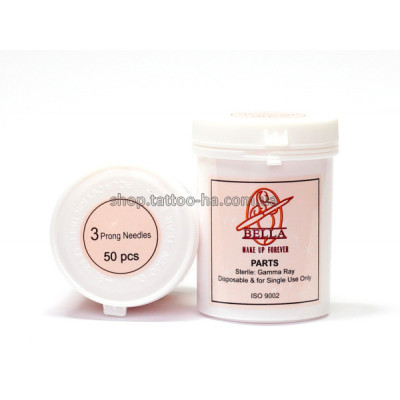 3R needles for the machine "Dregon" BELLA Prong Needles (Original)
Brand name:
Bella Co, Ltd Taiwan
Bella's R3 Permanent Makeup Needle is used with Dragon rotary type devices. These needles are characterized by high-quality material and a special guide system.
Dragon R3 is a combined round needle with three micro-teeth. The product has laser sharpening and is made of high-quality surgical steel, which allows to reduce injuries from the procedure to a minimum.
The needles undergo a special sterilization step using gamma radiation. After that, the product is packaged in a sealed sterile container. This needle is used mainly for drawing the contour of the eyelids and lips, as well as the implementation of inter-eyelid technology.
The consumables presented are intended for experienced masters, as well as for all beginner makeup artists. The needle is fixed in a permanent pen in just one click. For work, a cap is also needed that feeds pigment to the needle.
Due to the excellent build quality, vibration when working with the device is minimized. Moreover, the lateral runout of the needle is significantly reduced due to the unique design of the transmission mechanism and a special guide system.
You can change consumables in seconds, which greatly increases the speed of the entire procedure. Also, the master can easily adjust the speed and depth of the needle puncture.
Laser sharpening makes permanent makeup as painless as possible for the client. The needle delicately perforates the skin and injects pigment, instead of injuring it. That is why Bella products are characterized by ideal quality and high popularity in the European market.
Product Code:

BPN-3

Availability:

In Stock