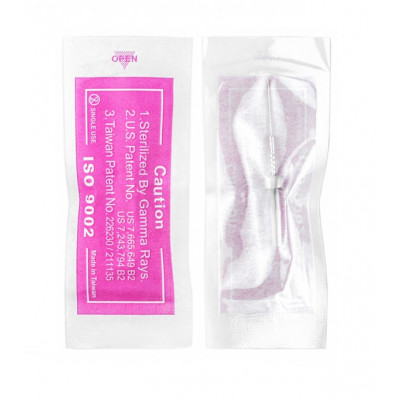 Needle 1R to the machine "Dregon" BELLA Prong Needles
Brand name:
Bella Co, Ltd Taiwan
These needles are used to perform permanent makeup using Dragon machines. Bella needles have a high level of sterility and quality material.
Dragon R1 is the thinnest model presented in the line. The product is used to perform detailed contouring in the eyelids and eyelashes. The length of the needle is 4.7 mm, the material is stainless surgical steel.
The consumables presented are ideal for both experienced tattoo artists and beginners in this art. Dragon rotary machines have high speed and significantly reduce noise and vibration due to high-quality composite materials.
The needle stands tightly in a permanent pen. A cap is also required for fixing, which you can buy in our store. The special design of the nozzle guide and gear allows you to reduce lateral runout of the needle.
The design of the Dragon R1 needle provides high rigidity and precision. Moreover, the master can change the consumables in a matter of seconds, thanks to the quick-fix needle system.
Dragon R1 from Bella Co., Ltd provides high needle stability at the tip. The needle does not stagger and stands firmly in a permanent pen. Each needle model is sterilized using gamma radiation. All supplies are equipped with sterile packaging and receive a unique serial number.
Product Code:

BPN-1-1

Availability:

Out Of Stock