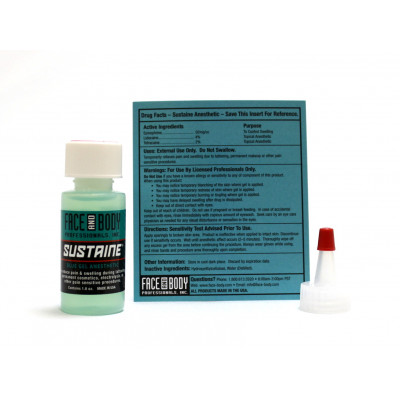 Sustaine - secondary anesthesia
SUSTAINE 1,2 OZ (34 g) ORIGINAL!
Manufacturer (Face and Body, USA)

Local Anesthetic.


It is applied during the procedure to damaged skin.



Product Code:

AN002

Availability:

In Stock
Additional information
For outdoor use. DO NOT APPLY INSIDE. Provides temporary anesthesia as a result of superficial damage to the skin during tattoos, tattooing or other painful procedures.
PRECAUTIONS:
For use only by trained and licensed craftsmen. Do not use if you are aware of an allergic reaction to any of the components of this remedy. When using this remedy:
- avoid direct contact with eyes;
- temporary reddening or whitening of the skin may occur at the site of application, burning and tingling sensations may occur;- swelling may occur after the end of the exposure;
- keep out of the reach of children;
- do not use on pregnant or lactating women;
- in case of accidental contact with eyes, rinse immediately with plenty of water;
- in case of prolonged irritation or pain in the eyes, consult an ophthalmologist if necessary.
MODE OF APPLICATION :
A sensitivity test is recommended before use. The product has no effect if applied to intact skin. Apply a small amount to damaged skin. Discontinue use if high sensitivity is observed. The tool will begin to act in 2-5 minutes. Wipe off the remnants thoroughly before continuing the procedure. Additionally, you can use a protective film for faster penetration and absorption.
Apply as needed to continue exposure to anesthesia. Always wear gloves when using the product, wash your hands and the area where you used the product thoroughly after the procedure. STORAGE: Store in a cool, dark place. Do not use if expired.


STORAGE:

Store in a cool, dark place. Do not use if the expiration date has passed.
Сomposition
ACTIVE INGREDIENTS, PURPOSE:
Epinephrine 0.2 mg - reduces bleeding, enhances the effect of anesthetics; Lidocaine -40 mg (4%) - local anesthetic of the amide type; Tetracaine 20 mg (2%) - local anesthetic of the ether type.

INACTIVE INGREDIENTS:

Hydroxyethylcellulose, Water (Distiled)